Makeup clutter causes frustration and wastes precious time during a morning routine.
Make your routine Quick and easy with Magic Cosmetics Pouch.
Here comes our Last Day flash sale! We sell this Magic Cosmetics Pouch at only $12.85.Act fast before sale ends.

FEATURES:
✔ EASILY FIND WHAT YOU NEED - Digging through the constant clutter of your makeup bag is a thing of the past. Magic Cosmetics Pouch spreads out completely flat allowing you to find what you need. When you need it.
✔ PACK UP INSTANTLY - Packing up all your products is no longer a chore. Just place everything on the open makeup bag, and pull the strings to close. It really is that simple.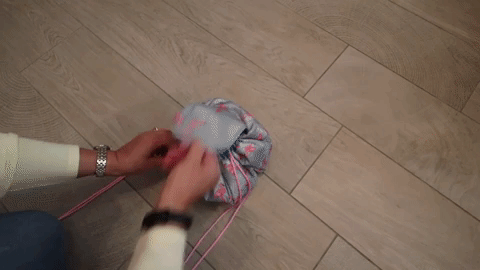 ✔ EFFORTLESS CLEANING - We've all been there, you get a new makeup bag and within 2 days it looks 2 years old. Magic Cosmetics Pouch Unique fabric means minimal to no cleaning is needed!
✔ PERFECT ON THE GO - Makeup and traveling can be frustrating. But Magic Cosmetics Pouch not only saves time, but is made from shock and waterproof material which protects your expensive makeup.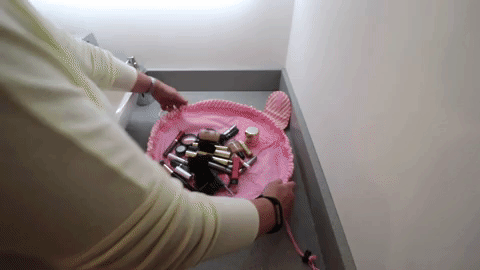 ---
💓The reviews are in!
"I was originally worried it wasn't going to be big enough but it fits so much! The little zipper within holds at least 10 full size brushes for both eyes and face. I like that it conforms to fit whatever i put into it unlike other bags where you have to arrange and pack things to fit properly. The pics show what I brought with me on a weekend trip. The 20 oz blender bottle is for size comparison. I definitely recommend it! Especially for a quick clean up after getting ready!"
——Lysanne Roob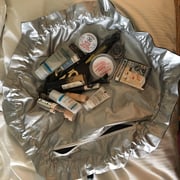 "I LOVE this bag! I'm actually a very precise, organized person, but the bundle of scattered makeup items really works for me. New vanity center drawer is too small, difficult to keep my things. As photos illustrate, bag is kept in deeper drawer then retrieved while I in use. Then back to the drawer until next time."
——Britty Wolford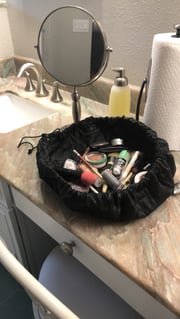 🎁It's a perfect gift for your friends & familly!
⚡️Stock sells fast - get yours today!