Swing-n-climb is ready-made swing equipment that provides kids with fun, vigorous workouts to develop key physical skills and confidence right in the backyard. It features a round disc at the bottom and little rubber rings going up, allowing the kids to sit or stand on to swing, and climb up the rope. It facilitates a healthy body and promotes overall wellness to fuel a child's holistic development.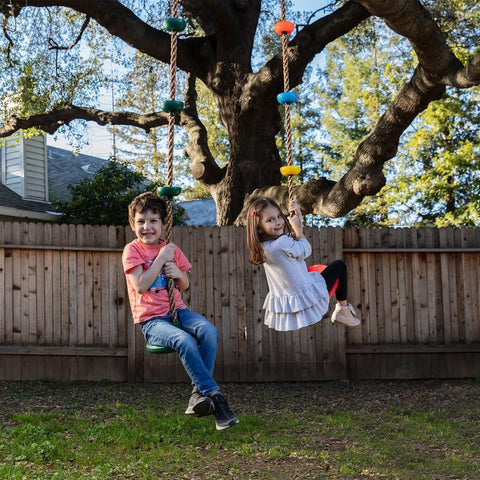 HOW SWING-N-CLIMB BENEFITS YOUR KIDS
✅ DEVELOPS STRENGTH AND BALANCE: Swing-n-climb engages upper and core muscles as they hold onto the ropes, climb up and stay upright. It forms strong muscles, teaching coordination, and a sense of balance for further development.
✅ MULTIFUNCTIONAL: Swing-n-climb features a sitting disc and climbing rubber rings going up, enabling kids to sit or stand on to swing while also climbing up and down the rope. The unique design ensures that kids get the enjoyable energy burn-off they crave.
✅ INSPIRE ACTIVE LIFESTYLE: Being active early leads to a lifetime of a healthy lifestyle. With Swing-n-climb, kids have easy access to endless fun of swing and are encouraged to engage in a daily energetic workout.
✅ BUILDS CONFIDENCE: Swing-n-climb enables kids to engage in safe risk-taking play, letting them learn how to evaluate, take cautions, and gain self-confidence. It builds perseverance and tenacity into a child's character for overcoming future challenges.
✅ SAFE AND DURABLE: Crafted with safety and durability in mind, Swing-n-climb utilizes an easy-to-grip, weatherproof polyethylene rope; and a textured anti-slip platform. It can endure daily roughhousing while remaining safe for kids.
✅ EASY TO INSTALL: Swing-n-climb comes with a locking hook carabiner and 21" extra long tree strap. Right out of the box, it's easy to bind to the tree branch or metal bar and takes only 3 minutes to install.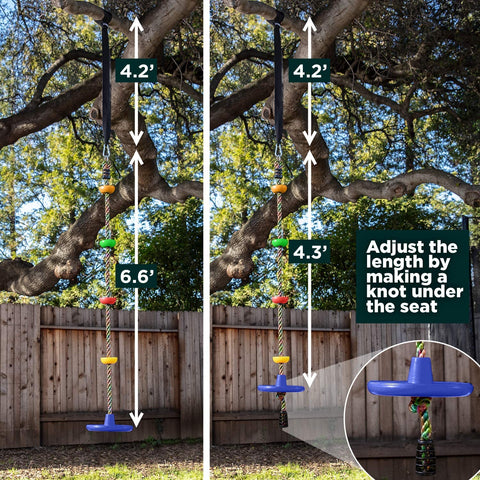 PRODUCT SPECIFICATION
✓ Large Disc Diameter: 12IN
✓ Small Disc Diameter: 4.3IN
✓ Static load capacity: up to 440 pounds
✓ Available in 3 choices of disc color: green, blue, red
Notes: For residential use only, not for commercial use. The color of climbing rings depends on availability.